Registration open for new garden waste collection service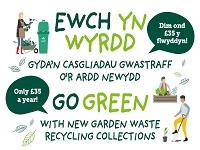 12 March 2019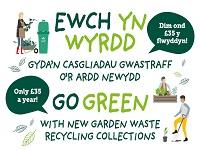 Green-fingered residents across Powys can now subscribe to a new garden waste collection service being offered by the county council.
Powys County Council is offering a collection service for garden waste, which will run from the beginning of April to the end of November.
Household can now subscribe to the new service by visiting www.powys.gov.uk/gardenwaste or by calling 01597 827465.
For £35, the council will provide a 240-litre wheeled bin and will collect garden waste once a fortnight. A smaller 120-litre bin will be available at a reduced rate for those households with small gardens.
Cllr Phyl Davies, Cabinet Member for Recycling and Waste, said: "Now that spring is upon us, people will start to venture out into their gardens and start getting their hands dirty.
"Our new collection service, which will cost less than £2 per collection if people subscribe now, will mean that households don't have to get their cars dirty by filling it with grass cuttings. The charge is likely to be less than what most residents would spend on fuel to take their garden waste to a collection point."
With the introduction of the new service, the council will start to remove green waste banks from community recycling sites. Households will still be able to take their garden waste to one of five household waste recycling centres in Powys.
"Green waste banks at community recycling sites are unique to Powys but they are unmanned and subjected to regular abuse by fly-tippers and commercial gardeners," said Cllr Davies.
"We do appreciate that this is a change for many users of the garden waste banks but I am confident that the new service will be seen as a more convenient alternative. Where this service is provided by other councils it is always very popular."