Careers partnership says thank you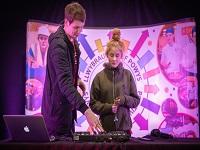 12 March 2019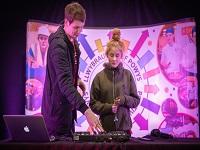 A partnership dedicated to providing careers advice to Powys' young people has thanked who attended the third Powys Careers Festival on Wednesday (March 6th).
Positives Pathways Powys organised the event at the Royal Welsh Showground at Llanelwedd on Wednesday which was attended by some 3,000 students from high schools, special schools and colleges from across the county.
The event is thought to be one of the biggest careers festivals in the UK and students were able to get an insight into future career/study opportunities from chatting to some 100 exhibitors in the two-hall exhibition.
Jackie Parker, is chair of the Partnership and she commented:
"We were absolutely delighted with this third festival which was formally opened by the Welsh Government's Cabinet Secretary for Education, Kirsty Williams AM.
"There was just so much for the young people to see - from universities to volunteering opportunities - and there was also a lot of information on offer on apprenticeships, including a main stage discussion devoted to the subject.
"I'd also like to say a big thankyou to our main stage guests, including Capital FM DJ Ben Sheppard - a former Gwernyfed High School head boy - rally champion Jason Pritchard and acclaimed hairdresser Lee Stafford. They all contributed to make it such a special day for our young people," said Mrs Parker, who is also Head teacher of Crickhowell High School.
She added: "I must also pay special tribute to the break dancers from Powys Dance and the students from the NPTC Group's Performing Arts course who entertained the crowds during the day. They were excellent."
Mrs Williams also presented certificates to teams of pupils from Brecon High School, Crickhowell High School and the NPTC Group of Colleges. All three teams have been shortlisted in a business idea competition being organised by the partnership. Judging for this will take place later this month.
And a special Best Exhibitor Award this year went to the Royal Welsh Agricultural Society/YFC stand for their efforts to engage the students, make their stand attractive as well as being relevant to career pathways.
This year's festival was sponsored by:
The Reaching Wider Mid and North Wales Partnership;
The NPTC Group of Colleges;
The Royal Welsh Agricultural Society;
Cambrian Training;
Radnor Hills;
West Ent audio visual company;
Compact Orbital Gears;
Abacare;
Dawnus Construction;
ACT Training;
Lanyon Bowdler solicitors;
EvaBuild;
Wales and West Housing Association
The event was also supported by Communities for Work.
The Positive Pathways Powys group is made up of Powys County Council, Careers Wales, Cambrian Training, the NPTC Group of Colleges, high schools in Powys and Powys Association of Voluntary Organisations (PAVO).
More information about the partnership, along with more photographs from the festival, can be found at www.facebook.com/PositivepathwaysPowys. Photographs from the event can also be found on Powys County Council's Flickr account at https://www.flickr.com/photos/powyscc/