Reading actively encourages memory sharing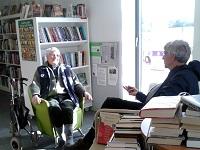 21 March 2019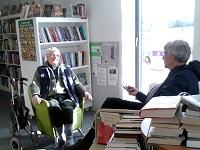 A small library in Powys has shown that books can evoke powerful memories with its borrowers.
The Branch Librarian at Talgarth Library, Jan Shivel recently reported fantastic results from a Reading Memoirs Group which takes place every Tuesday afternoon in the library.
Jan - a gifted storyteller in her own right - has found that reading a selected piece from a book acts as a valuable catalyst to kick-start memories among those that choose to participate in the Tuesday sessions.
Successful readings include, Edna St Vincent Millay's Dirge without Music, passages from Leslie Norris's Girl from Cardigan and even Mole's spring cleaning at the start of Wind in the Willows. The readings have sparked interesting memories in the listeners, which lead on to shared conversations and thoughts.
In Talgarth, topics have ranged from molehills to beekeeping to Penywrlodd Farm & long cairn - the oldest human made structure in the Talgarth area believed to be over 5000 years old. One participant who grew up at Penywrlodd has also written a memoir of the farm, based on his father's 70 years of diaries.
Cllr Rachel Powell, Cabinet Member for Libraries, said: "The program so far has had a very good response from those that have taken part and its success has been down to how this has been facilitated by the 'reader'.
It uses writings to stimulate memories and present day comparisons, through sharing insights into people and places. It can reach out to people of all ages and, importantly, lends itself to intergenerational engagement and pleasure.
"Memories bond and help shape who we are as individuals and collectively within our communities."
Branch Librarian, Jan Shivel, will further develop this programme and has invited colleagues and volunteers who are interested in setting up a similar reading group. They are welcome to come along to Talgarth library to see for themselves.
The Reading Memoir Group takes place at Talgarth Library every Tuesday between 1-3pm.