New household waste recycling centre almost ready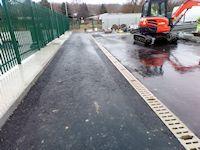 22 March 2019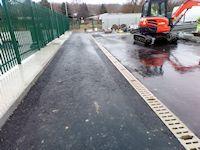 Work to develop a new household waste recycling centre in north Powys is nearing completion, the county council has said.
Contractors Alun Griffiths Ltd have been working on the new centre at the Dyffryn Industrial Estate in Newtown on behalf of Powys County Council.
The council is anticipating that the centre will be operating from its new location mid-April.
The site, which is owned by the council, complements the other council-owned sites in Brecon, Llandrindod Wells and Lower Cwmtwrch, Ystradgynlais.
Cllr Phyl Davies, Cabinet Member for Recycling and Waste, said: "I'm delighted that our new household waste recycling centre in Newtown is almost ready.
"The new centre will be a considerable improvement on the current site in the town as it is purpose built and designed to improve traffic flow and make it easier for residents to recycle their waste.
"Our investment in this new centre is part of our long-term plans to secure strategic recycling and waste facilities across the county. Having household waste recycling centres in our ownership helps secure this valued service.
"Household waste recycling centres are an important contribution to achieving the Welsh Government's ambitious target to recycle at least 70 per cent of waste by 2025."
Although the centre will be operating from a new location, the and opening hours will not change. The current opening hours are:
Monday - 9am-5pm
Tuesday - 9am-5pm
Wednesday - 9am-5pm
Thursday - Closed
Friday - Closed
Saturday - 10am-4pm
Sunday - 10am-4pm
Householders who want to use commercial vehicles to take their domestic waste and recycling to the centre will still need to apply for commercial vehicle and trailer (CVT) permits from the council. Appy by visiting www.powys.gov.uk/recycle.