Crickhowell Arts Organisation to talk about council funded project at UK conference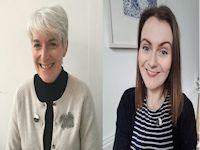 27 March 2019
A Crickhowell-based arts organisation has been praised by Powys County Council for its Illumine project after having been invited to speak at a UK-wide arts conference in Newcastle.
Peak is an arts organisation based in the Black Mountains that works creatively with professional artists and communities, responding to the rural environment.
Chief Executive Justine Wheatley and Participation Manager Rachel Dunlop have been invited to present about the Powys County Council-funded Illumine project. This will take place at the Arts Marketing Association conference in July.
The Illumine project is seeing young people aged 16-25 in the south of the county working alongside leading digital artists and creative industry professionals working in filmmaking, photography and sound. The work produced by the young image makers will be presented in the new 'y Gaer' in Brecon and is designed to stimulate the interest of local people and visitors alike in what the region uniquely has to offer.
Rachel has also been chosen by Arts Council of Wales as one of four lead invigilators from Wales to work with the Welsh team at the Venice Biennale later this year. She will be spending 6 weeks in Venice in May/June, facilitating visitors to experience Cardiff-based artist Sean Edwards' presentation, and talking about wider arts and culture in Wales.
Cllr Rachel Powell, Cabinet Member for Culture, said: "I'm delighted that the excellent work Peak is carrying out is being recognised for being good practice. We are pleased to support and lead the Illumine project which is giving young Powys people the opportunity to work alongside some of the most ambitious artists working in digital media and interpret their vision of the Brecon Beacons."
Rachel Dunlop commented: "Justine and I have been asked to talk about the Illumine project and how we've formed relationships with artists, young people and communities within the Brecon Beacons National Park at their National conference at Newcastle later this year. There will be over 500 delegates there from across the sector, so it will be a really good opportunity to talk about our learning and share it on a National platform."
More information about the Illumine project can be found at https://peak.cymru/illumine-2/