Garden waste banks to be removed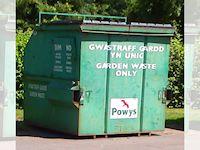 08 April 2019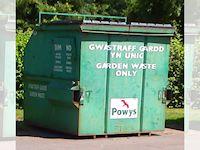 Garden waste banks at community recycling sites in the county are to be removed over the next two weeks, Powys County Council has said.
The banks from 35 community recycling sites are being removed now that the council has introduced its fortnightly kerbside garden waste collection service.
To sign up to the new fortnightly garden waste collection service all you need to do is visit www.powys.gov.uk/gardenwaste or call 01597 827 465.
Cllr Phyl Davies, Cabinet Member for Recycling and Waste, said:
"Green waste banks at community recycling sites are unique to Powys but unfortunately they have been open to abuse by both fly-tippers and commercial gardeners.
"We appreciate that the loss of the garden waste banks will require some adjustment from the community. We do however anticipate that the new kerbside service will increase the amount of compostable garden waste that we collect, provide a more convenient service for residents and also realise a saving to the authority."
Those householders who do not wish to participate in the new service are able to continue to use the council's household waste recycling centres or compost their green waste at home.