Council Leader congratulates young entrepreneurs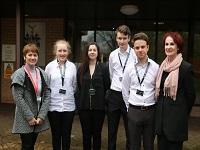 12 April 2019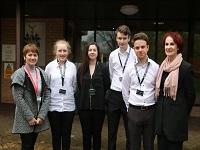 A team of young entrepreneurs from The NPTC Group of Colleges has been praised by Powys County Council's Leader after they presented their business idea to the Cabinet and senior management this week.
The team of four recently took the Gold Award in the Positive Pathways Powys Business Idea competition, for which the council was amongst the judging panel. And after coming up with their idea for the competition - helping people to install smart technology into their homes and businesses - the students have decided to make their idea a real business.
Cllr. Rosemarie Harris praised the Smart Integrate team: "After they won the competition we invited the students along to one of our regular Cabinet meetings and they gave us a wonderful demonstration of how their service works."
"Their idea of helping people who aren't IT confident install smart technology into their homes is a great one and it shows how our students in college and schools in Powys have so many skills to offer the world," said Cllr. Harris. "I'm so impressed that they have been confident enough in their idea to make a go of it and are already offering free consultations to the Powys community via their website."
The team - Ethan Smith, Brooke Jones, Rhys Gough and Zoe Morgan - all study at Newtown College and they beat off competition from some 30 entries from high schools and college across the county. A team from Brecon High School took the Silver Award while Crickhowell High School students took Bronze.
The Gold Award won the team a trophy and £200 in vouchers, courtesy of What About Me? Training Ltd and Weale's Wheels.
The Positive Pathways Powys group is a partnership of Powys County Council, Careers Wales, The NPTC Group of Colleges, high schools in Powys, Cambrian Training Ltd and the Powys Association of Voluntary Organisations. The group aims to offer Powys students world class advice and information on the opportunities which await them after they finish compulsory education at 16. The group recently held its third Powys Careers Festival at the Royal Welsh Showground in Llanelwedd.