Counterfeit goods seized by His Church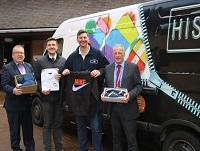 23rd April 2019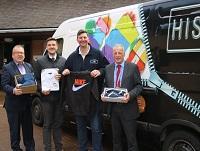 Counterfeit goods seized by trading standards officers have been handed to a charity to be recycled, Powys County Council has said.
The council's Trading Standards Service has handed over a large quantity of counterfeit items to HIS Church. The Bedfordshire-based charity will now remove logos from the fake or illegal designer clothing and re-brand them with a genuine His Church label allowing them to be handed over legally.
The items handed over to this charity, which included CDs, clothing, boots, sunglasses and other goods, would command a retail value of over £20,000.
Cllr James Evans, Cabinet Member for Trading Standards, said: "Traders of fake merchandise make money out of someone else's work and getting these goods off the streets of Powys is an important role of our Trading Standards Service.
"By teaming up with His Church, not only are we protecting consumers, but we are also helping others make use of the items seized."
Clive Jones, the council's Professional Lead for Trading Standards, Community Safety and Emergency Planning, said: "While it is great to see that worthy causes will benefit from this handover, we have to remind people that counterfeiting is not the victimless crime that some of them may think.
"The proceeds from fake goods often go to organised criminals who are involved in other crime in our communities. Counterfeiting also has a direct effect on our local and legitimate traders who end up unfairly competing with counterfeiters, with the potential knock on threat of losing jobs because of this activity.
"We would encourage residents and businesses to provide information to our service about suspect activities in their communities to stop and prevent these crimes."
Richard Humphrey from His Church said: "We are delighted to act in partnership with the council's Trading Standards Service in turning counterfeit products into real aid for those who need it most."
The 'His Church 'Charity specialises in providing secure, ethical and sustainable charitable solutions for residual stock (including food, clothing, toys and supplies). These items are re-distributed directly and through a support network of over 2000 Registered Charities in the UK to vulnerable people in the local and wider community.

They provide a solution by re-branding counterfeit clothing seized by Trading Standards, the Police or HM Customs which are again re-distributed to those in need.