Youngsters win prizes to celebrate World Book Day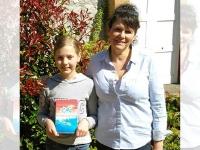 30 April 2019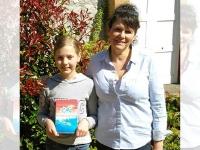 Two Powys youngsters have picked up prizes after winning competitions to mark this year's World Book Day.
Llanidloes six-year-old Aiden won a competition to 'design a new coat for Elmer' while 11-year old Sophie from Llanwrtyd Wells won the challenge of 'designing/developing a new character for your favourite book'.
The two competitions were launched by Powys County Council's Library Service to youngsters across Powys last month to help celebrate World Book Day.
The Key Stage 1 competition asked children from primary schools across the county to re-design a new coat for the popular children's book character 'Elmer', the patchwork elephant by author/illustrator David McKee.
For older pupils, juniors were asked to design and develop a new character for their favourite book.
Cllr Rachel Powell said, Cabinet Member for Libraries, said: "It's important that children discover the joy of reading and celebrate World Book Day at school and their local library. We want children to be encouraged at home too, to become budding readers through the magic of books."
There were many entries, which took time to be considered, and the judge decided on two worthy winners.
Both children were presented with prizes to mark their achievements.