Turf-cutting marks start of new housing development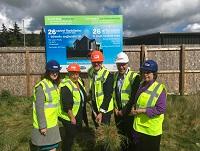 23 May 2019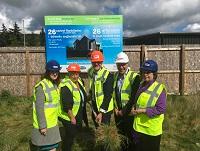 Work on Powys County Council's first affordable housing development for social rent in 30 years has formally started with a turf-cutting ceremony.
Cllr James Evans, Cabinet Member for Housing, cut the first patch of soil to mark the start of work on the £3.5m three-storey building in Newtown. The ceremony took place on Monday, May 21.
The new development, which will be built on land adjacent to Newtown Bowling Club by Port Talbot-based Jistcourt, will contain 26 one-bedroomed flats.
The turf-cutting ceremony was attended by the Leader of Powys County Council, Cllr Rosemarie Harris and Jistcourt Chairman Rob Norman. Representatives from the Welsh Government, Spring Design, Strongs, Wood Knowledge Wales and the council's Affordable Housing Team were also present.
The development will provide low-carbon accommodation available at an affordable rent. Home grown timber will be used as part of its construction with timber being used for both the primary structure and external materials, including windows and doors, which supports the council's Wood Encouragement Policy.
The Welsh Government has granted almost £2.2m in funding through its Innovative Housing Programme towards the development of the flats.
Cllr James Evans, Cabinet Member for Housing, said: "It has been a fantastic opportunity to cut the turf and start our house building programme, the first houses built by Powys for over 30 years.
"There is a housing need in Newtown and I'm delighted that we actually on site building these properties. This all feeds into our Vision 2025, which is building 250 homes by 2023.
"Jistcourt has already started to use local contractors, keeping that Powys Pound going. This is going to help to build the local economy in Powys and this will benefit our local residents and businesses."
Rob Norman, Chairman of Jistcourt, said: "We're very pleased to be working with Powys County Council on this new development in Newtown and excited to see this project through to a successful conclusion."