County's premier business awards launched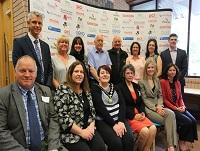 4 June 2019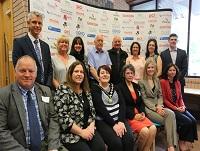 The annual Powys Business Awards, which began in 2009, were launched today (Tuesday, June 4) with sponsors, judges and past finalists attending the event.
County Hall in Llandrindod Wells hosted the official launch of the Annual Powys Business Awards competition where all the categories for this year's competition were revealed.
Cllr. Rosemarie Harris, Leader of Powys County Council, said: "The Powys Business Awards have gone from strength to strength since they were launched and I'm delighted that Powys County Council continues to support them.
"The Powys Business Awards are an important date in the business calendar and I would urge all businesses in the county to enter this year's awards. They are an excellent way of highlighting the range and expertise of the county's businesses.
"Not only do these awards provide an excellent opportunity for the county's businesses to raise their profiles, it gives us the chance to showcase their quality and celebrate their success."
This year sees new categories added including Investing in People award and Excellence in Customer Service. The mix of categories recognises the diverse mix of businesses located within the county including Small Business Growth and the Technology and Innovation Award.
The awards are an opportunity for all businesses, social enterprises and charities in Powys to compete for a chance to be a finalist no matter if they are large or small or if they are a new start-up or an existing business.
At the launch, organisers Mid Wales Manufacturing Group and Powys County Council announced the confirmed list of categories and sponsors for this year's business awards.
Ceri Stephens, Group Manager for Mid Wales Manufacturing Group, said: "The Powys Business Awards provides a fantastic platform for businesses to raise their profile. Those who enter the awards are independently judged on their excellent standards.
"The awards also provides a public forum where finalists can gather in the presence of other business leaders and their peers to celebrate their success on the night.
"Winners on the night will also benefit from local publicity as the awards are covered by local and regional newspapers and broadcasters. Everyone who reaches the finals also has a free professionally made short film about their business which can be used in their publicity."
Application forms are now available for the 2019 Powys Business Awards, which will culminate in a black-tie dinner being held at Dering Lines in Brecon on Friday, October 4.
The categories for the 2019 Powys Business Awards are:
Entrepreneurship Award sponsored by Welsh Government
Start up Business Award sponsored by Myrick Training
Micro Business Award (Less than 10 employees) sponsored by The Cambrian News & Brecon & Radnor Express
Growth Award sponsored by Development Bank of Wales
Investing in People Award sponsored by PCI Pharma Services
Excellence in Customer Service Award sponsored by Nidec Control Techniques
Small Business Award (Under 30 employees) sponsored by The County Times
Social Enterprise/ Charity Award sponsored by Mid Wales Housing Association Ltd
International Trade Award sponsored by Trax JH Ltd
Outstanding apprentice Award sponsored by Mid Wales Manufacturing Group
Technology & Innovation Award sponsored by Lanyon Bowdler Solicitors
Small Business Growth Award sponsored by NPTC Group of Colleges
Business of the Year sponsored by Powys County Council
In addition to the above awards, the Judging Panel have a discretionary award called the Judges Award which is made each year to recognise some outstanding achievement or person that has come to the judge's attention during their visits and which the strict criteria for the other awards does not recognise which this year is sponsored by Mid Wales Chamber of Commerce.
From the category winners the overall award for Powys Business of the Year 2019, is sponsored by Powys County Council.
Further details on all the awards can be found on the website www.powysbusinessawards.co.uk and deadline for submission of entries is Friday, July 12, 2019.