Newtown Library holds Dementia Day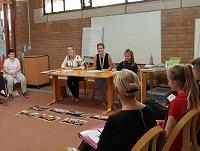 18 June 2019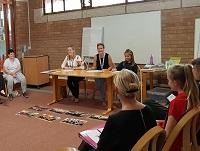 A north Powys library has held a dementia day as part of Dementia Action Week.
The day, which took place on Tuesday, May 21, saw individuals and groups involved in dementia invited to the library to meet with nurses and people from Dementia Friendly Newtown.
The day was organised during Dementia Action Week, which happens in May each year. The week unites people, workplaces, schools and communities to take action and improve the lives of people living with dementia.
A successful monthly intergenerational singing group with pupils from Hafren Primary School was showcased during the day, where they sang popular music from the 50's and 60's for the audience in the library.
The library also demonstrated a 'Read to Remember' session - with themed readings designed to 'spark' memories with the listeners to become talking points.
A Free Dementia Friends training session took place with Dementia Champions Lynne Roberts Watkins and Kate Orehawa from Hafren Primary School, with several people taking part in the session.
Cllr Rachel Powell, Cabinet Member for Libraries, said: "Newtown Library's Dementia Day was important for everyone in the community to see - an access point to show and demonstrate what there is available and local to them.
"The day also highlighted a caring attitude to supportive activities and advice in our communities with schools and libraries doing their creative part in making this happen.
"I fully support the inclusive way that people from different ages and skills can come together to enhance these wellbeing activities for those with dementia."
Powys County Council's Library Service has dedicated books and resources available on dementia in all its libraries. You can also join the library free of charge.
For more information on our monthly Intergenerational Singing Group - please contact Newtown Library. The next session is on Tuesday, July 9 Newtown Library from 1:30-2:30pm. The library welcomes all to come along and join in the fun.
We welcome all who wish to come along and join in with the fun.
Contact Newtown Library on 01686 626934 or email newtown.library@powys.gov.uk