Road Planings
Managing the highways network in the County of Powys produces a lot of road planings which are an excellent material for secondary use. Any excess materials can then be sold at very competitive rates. This results in less impact on the environment and significant cost savings to the Council and our customers.
Road planings are ideal for: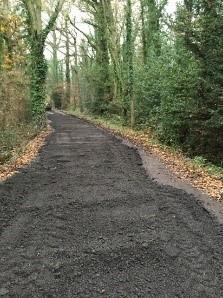 footways
car parks
base material for patios
driveways
Road planings are available for delivery or collection to individuals or businesses. Collection must be made with an appropriate road worthy vehicle, and will be loaded by the Council. Delivery can be made within a reasonable distance of planing stores.
Pricing July 2019

Materials can be delivered direct from site and collected/delivered from stock pile

6 wheel Tipper(approx 16 Tonnes capacity) Tipper Full £130.00

8 wheel Tipper (approx 20 Tonnes capacity) Tipper Full £160.00

£8 a tonne. Minimum amount for delivery/collection from stores is 10 Tonnes. No minimum amount for delivery from site.

Prices above includes loading at collection point if collecting materials

Delivery within 30mins drive of stock location £50.

Delivery from site within 15 minutes' drive is free.

Please note the lorry will not be weighed, therefore the weight of materials is estimated, it will be filled.

Delivery further afield can be arranged and quoted for, please complete the enquiry form below

All deliveries/collection are subject to availability and capacity at local depots. Customers will be contacted following delivery or collection to provide their card/bank account details. An invoice can be provided if required.

Current Availability:

Availability currently in the North of the County (Welshpool area only).

100 Tonnes is available for collection only in the South of the County, please make an enquiry if you are interested.

Delivery available outside these areas at an extra cost.