Pupils celebrate 'Pyjamarama' week 2019 with children's author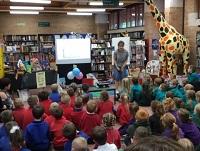 18 July 2019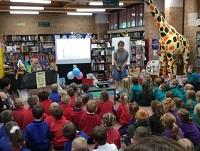 A famous children's author has enthralled primary school pupils from Brecon and Newtown with tales of Shifty McGifty and Slippery Sam - the robber dogs.
Reception aged children joined author Tracey Corderoy for fun and games with her loveable book characters as part of Pyjamarama Week 2019.
Powys County Council's Library Service held events in libraries in Brecon and Newtown to celebrate the event, which saw pupils from Priory, Cradoc, Mount Street Infants, Llanfaes, Maesyrhandir, St. Marys, Treowen and Ladywell Green listen to takes about the robber dogs.
Pyjamarama, is part of the original 'Bookstart' initiative headed by Booktrust, a registered UK charity that encourages a love of books, stories and rhymes in children from as young an age as possible.
This includes a gift of free books to every child in England and Wales at two key stages before school, as well as free packs for children with additional needs, tips and guidance on reading together, resources and activities.
Libraries in Powys have enjoyed a long association with Booktrust and has worked in partnership with health visitors in delivering the world's first national book-gifting 'Bookstart' programme.
"I was so pleased to see how well the young children reacted to my reading activity and listening about my colourful book characters," said author Tracey Corderoy.
"Stories help little ones understand the world. But they also do much more. They shape, they challenge, they are sprinkled with magic. They take them beyond the here and now to what they never knew could be."
Libraries are a great place to continue this gift - with a whole range of board and picture books that take them through different reading stages in their reading journey. No one too young (or too old) to join the library service in Powys.
To find out more about the council's Library Service visit www.powys.gov.uk/library
For more information on Bookstart visit www.booktrust.org.uk/what-we-do/programmes-and-campaigns/bookstart/