Council work experience helps Powys woman gain BBC apprenticeship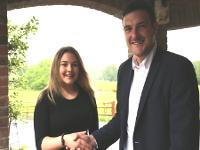 August 2nd 2019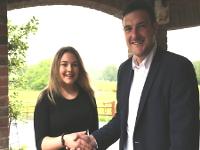 A young woman from Powys has praised the value of work experience at the county council after gaining a place on a BBC management apprenticeship scheme.
Josie Duggan, a former pupil of Ysgol Calon Cymru, spent time within the Communications Team at Powys County Council in the summer of 2018. She feels that this helped her navigate the multiple tests with the BBC to earn her a place on the Apprenticeship with Business Management course. Josie is the youngest person on this year's BBC intake.
Josie explained: "I found the course online at the BBC's Careers Hub website. I applied and then I had a video interview followed by an assessment day in Birmingham.
"I did my work experience with the Communications Team at Powys County Council. It was great - I got to use lots of different film equipment, I got to talk to the chief executive and worked in lots of different environments."
She added: "It definitely helped me decide that the media was an area I wanted to go into and after speaking to lots of different people within the Comms team it helped me make the decision. I'd say to anyone looking for work experience next year to consider the county council - everyone was really helpful, really friendly and gave me great advice about career options."
She also paid tribute to the support offered to her by Ysgol Calon Cymru and how being a member of the YFC helped her develop her public speaking skills.
Cllr. James Evans is the county council's Cabinet Member with responsibility for Communications and Human Resources and he congratulated Josie: "It's really great news that Josie has got the apprenticeship with the BBC. It just shows the talent we have here in Powys and that they can go and work for some of the biggest news corporations in the world. It's going to give her such an experience of world-wide communication and 24 hour news."
"Josie had a fantastic opportunity to gain experience within the Comms team - but we don't just offer work experience there, we have opportunities throughout the council, whether it's HR, Social Services, Highways, Education and many more. We are very keen to promote work experience as it gives young people those life experiences of work, here in the council, which is very important when they go on to get jobs in later life."
Each year, the county council offers work experience placements to around 10 young people, from the ages of 15 upwards. Work experience placements for this summer are now in place but for young people looking ahead to 2020, please contact Marc James at workexperience@powys.gov.uk or apply directly on line at https://en.powys.gov.uk/article/7016/Work-Experience
Josie also took part in the Seren programme, a Welsh Government funded initiative to support those pupils who are academically high achievers.
Photo: Cllr James Evans congratulates Josie Duggan on gaining an apprenticeship with the BBC.