Social care careers event at Llandrindod Wells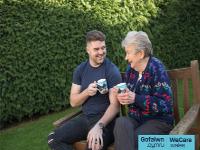 September 2nd, 2019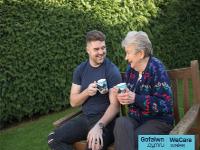 People interested in a career in social care work are being invited to drop in at Powys County Council next week to mark WeCare Wales Week.
The event in the lobby of County Hall, Llandrindod Wells on Wednesday September 11th will give people interested in working in social care the chance to have an informal chat about potential careers in the sector. People are invited to come along anytime between 2pm and 6pm.
Cllr Rachel Powell is the council's Cabinet Member with responsibility for Young People. She commented: "Working in social care is a tremendously fulfilling and specialised occupation. This hugely valuable role provides early help and support for children and families, right through, to supporting and protecting our most vulnerable adults and elderly. To gauge a better understanding for all those contemplating a career in social care, please do not hesitate to come a long and discuss further."
Her views were echoed by Cllr. Stephen Hayes, who is the council's Cabinet Member with responsibility for Adult Social Care. "We provide - either directly or indirectly - in the region of 11,000 hours of homecare to Powys residents every week together with a wide range of other services to support independence."
"We know that the average age of our resident is increasing which, while good news for the individuals concerned, will increase the demand for services. As a result, we know that we are going to need more people to do this extremely valuable job; both women and men."
The council also is regularly recruiting social workers at all levels - whether they are senior practitioners or newly qualified.
You can find out more about working in social care in the county by visiting https://en.powys.gov.uk/article/4611/Working-in-Social-Care-in-Powys or by emailing vacancies@powys.gov.uk.
National recruitment campaign, WeCare Wales is highlighting the variety of care jobs available to young people in social care, early years and childcare with a week of activity from 9 September called We Care Wales Week. The campaign will share stories from young people across Wales of what it's like working in different roles. To get involved on social media, follow #WeCareWeek.