Drop in session around working in care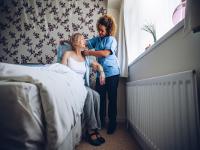 September 6, 2019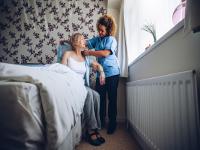 A drop-in session for people who are interested in a rewarding role delivering care is taking place in Knighton later this month.
Powys County Council is teaming up with a local domiciliary care provider, a Direct Payments agency and Social Care Wales' We Care Campaign to hold an event at the town's community centre on Wednesday September 18 between 3pm and 7pm.
The work is part of a campaign to encourage more people into the social care sector throughout Wales. Social Care Wales estimate that some 20,000 more people will be needed to work in care in Wales by 2030.
Councillor Stephen Hayes is the council's Cabinet Member with responsibility for Adult Social Care. "If you are interested in a job delivering care and support, please feel free to come along to have a chat with the team at the drop-in. They'll be able to give you details about flexible career options. We are holding this in Knighton as this is one of the areas in the county where there is a particular need."
He explained that both homecare worker and Personal Assistant roles are flexible careers which could be suited to parents/grandparents or guardians who need to work around their childcare responsibilities, for example working outside 'school run' times. The roles can be full or part-time and there are many opportunities for career progression for anyone considering working within this sector.
Many care workers in Powys are employed by outside agencies although some are directly employed by Powys County Council itself.
You can find contact details for the agencies - as well as details about council jobs - via https://en.powys.gov.uk/article/7722/Work-as-a-Homecare-Worker