Recycle Week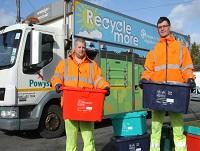 23 September 2019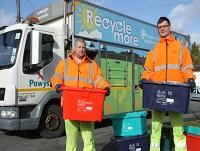 Powys is proud to be taking recycling into its own hands! In the biggest and best Recycle Week ever, Recycle Now is tasking residents to take recycling into their own hands and take action to protect our environment.
The year so far has been one of protests and marches. People have had enough of the status quo; things need to change urgently. Inspired by Our Planet, Greta Thunberg and Sir David Attenborough - environmental concerns have never been so important to the nation. Last year we saw people being more motivated to recycle and 2018 was the biggest Recycle Week to date, but 2019 promises to be bigger and better!
For its 17th annual Recycle Week (23rd - 29th September), Recycle Now is capitalising on this heightened awareness and energy right here in Powys; tasking residents - and people all over the UK - to act and focus on getting recycling right during Recycle Week.
Getting recycling right
Latest research from Recycle Now reveals that over 60% of UK households are now recycling more than they were a year ago because of environmental concerns.
The research shows that more and more UK households are recycling plastic drinks, cleaner, toiletry and shampoo bottles, amongst other items including glass and metal tin cans. The level of increase of glass and metal / tin cans is at a slightly lower level compared to the other items cited. Nearly a third of these people cite environmental concerns as the main reason for doing more and other attribute it to an increased awareness of what can be recycled. Whilst the research showed an increase in recycling, it also showed that UK households sometimes incorrectly put items like nappies, toys and toothpaste tubes in the recycling bin.
But fear not - Recycle Now is here to help! Powys is a county of recyclers - but there are some simple things that we can all do to make our recycling even better.
Top tips for recycling in Powys
Make sure you recycle all your food waste, paper, aerosols, aluminium foil every week
We don't collect laminated tetra pak cartons and coffee cups but you can recycle these at the main HWRC recycling centres.
Please don't put plastic bags / film in the plastic recycling as this can contaminate the plastic bottles, pots, tubs and trays.
And if you're at all unsure about how to recycle a specific item, remember that Recycle Now's Recycling Locator can show you exactly what needs to go in the recycling bin where you live - just pop in your postcode!
What and how we recycle really matters. Recycling an item rather than throwing it in the general rubbish bin means that it will be dealt with in the most environmentally friendly way, keeping materials in use and out of the environment.
Craig Stephens, campaign manager for Recycle Now, said: "This year we've all taken more notice of our impact on the environment, and realised that recycling is part of reducing that impact. Here in Powys it's no different - more and more of us are recycling, so the next step is to make sure we get our recycling right. So come on, Powys, keep up the great work and let's make the county's recycling better than ever before!"
Cllr Phyl Davies, Cabinet Member for Recycling and Waste, said: "We are proud of our recycling record and the efforts of our residents in recycling as much as they can.
"However, we know that we can do better and Recycle Week gives an opportunity to show how many materials can be recycled instead of going into landfill."
To find out more about Recycle Week, and to use the Recycling Locator to find out what to recycle where you live, visit www.recyclenow.org.uk