Cabinet confirmed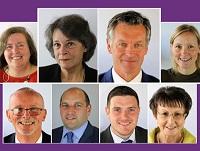 2 October 2019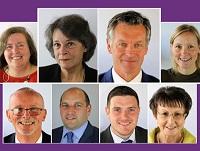 A reshuffle of Powys County Council Cabinet responsibilities has been completed by the Leader of the Council, Councillor Rosemarie Harris.
The changes, which affect all service areas, were announced today (Tuesday) following the resignation of two cabinet members last week.
Councillor Rosemarie Harris said; "The changes that I am announcing today will come into force with immediate effect and are designed to give Cabinet members new challenges and wider experience of all council operations.
"The Cabinet will continue for the time being with eight members with some changes necessary in portfolio holder responsibilities.
"We have a significant agenda as a Cabinet. As a number of strategic programmes start to gather pace I will be keeping the number of Cabinet members under review and may seek to increase the number to 10 in due course."
The portfolio holder responsibilities will be:
Cllr Rosemarie Harris, Leader
Cllr Aled Davies, Deputy Leader and Portfolio Holder for Finance, Countryside and Transport
Cllr Myfanwy Alexander, Portfolio Holder responsible for Adult Social Care and Welsh Language
Cllr Graham Breeze, Portfolio Holder responsible for Corporate Governance and Engagement
Cllr Phyl Davies, Portfolio Holder responsible for Education and Property
Cllr James Evans, Portfolio Holder responsible for Economic Development, Housing and Regulatory Services
Cllr Heulwen Hulme, Portfolio Holder responsible Environment
Cllr Rachel Powell, Portfolio Holder responsible for Young People and Culture