New opening date for Brecon High School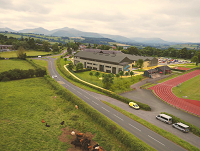 8th October 2019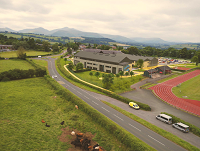 A new high school in south Powys will now open in December, the county council has said.
Work on Brecon's new £21m high school is nearing completion but Powys County Council has made the difficult decision to change the date that the school is opened in the interest of the pupils' education.
Pupils will now move into the new building on Monday, December 2 instead of Tuesday, November 5. This will ensure that the building is completely ready for pupils from day one and that they are not disrupted in any way when they move into the new building.
The new school, which will cover 7,500sqm, will provide a state-of-the art 750-place secondary school with full cooking kitchen, dining areas, four court sports hall, activity studio and specialist teaching areas - this will provide pupils and staff with a significantly improved learning environment.
Cllr Phyl Davies, Cabinet Member for Education, said: "The new high school in Brecon is going to be a fantastic facility with the most up-to-date resources to aid pupils and teachers.
"The majority of the building works are complete, but a site inspection found that there are some works that could continue into next month and this could impact on teaching.
"Changing the opening day for pupils will allow the works to be finished and for us to test the building to make sure that it is fully operation and ready for teaching.
"It is only fair to both pupils and teachers that they walk into a new building that is completely finished and provides the desired teaching environment from day one."
A transition period to move from the old building into the new buildings is planned to start on week commencing the Monday, November 18. The non-pupil days have been re-arranged and will commence from Monday 25 to Friday 29 November. The new school building will officially open to staff and pupils on Monday, December 2.
"We appreciate that the delay will impact pupils, parents and teachers but if we risk moving into the new building before it is ready, this will have a detrimental impact on teaching and this would be unacceptable," said Cllr Davies.
Statement from Cllr David Meredith, Chair of Governors
Whilst it is regrettable that there has been a delay in pupils being able to go into the new state of the art building, it is imperative that the building is fully operational in order to avoid any health and safety issues occurring.