Direct Payments could be the care answer for more people says council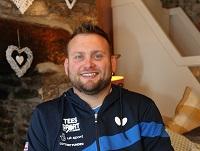 10 October 2019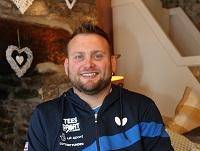 Paralympian table tennis player Rob Davies MBE is one of dozens of Powys people who now manage their social care with Direct Payments.
Powys County Council says that this could be the option for many more as Direct Payments give people greater control over their lives and how their care is delivered by promoting independence, choice and inclusion.
Rob, who lives in the south of the county, receives money from the council that he can then use to employ people to provide his care. In addition, PeoplePlus Independent Living Services provides him with support to manage his care using his Direct Payments.
"I use the money to employ three PAs (personal assistants) or carers and it's brilliant for me. I've had Direct Payments since I came out of hospital in 2006 and my social worker initially sorted it out for me," said Rob.
He explained that he can tailor his care to exactly match his particular requirements, including supporting him in attending his regular training sessions in Cardiff and when he travelled to Brazil to compete in the 2016 Paralympics, where he took Gold in the Men's Singles Table Tennis, Class 1.
"I manage the accounts and employ the people myself as that's the way I prefer it. I can choose the people I want, the characters I like. I wouldn't have been able to get where I am today or go to the Paralympics without being able to manage my care in this way," said Rob, who was awarded his MBE in the New Year's Honours List at the end of 2016.
PeoplePlus is able to give support and assist with understanding what Direct Payments can be used for. It could be used for recruitment including advertising vacancies, employing personal assistants, ongoing advice and guidance around all aspects of managing direct payment accounts. PeoplePlus is contracted by the council to provide this service. You can find out more about Direct Payments via https://en.powys.gov.uk/article/1573/Direct-Payments or by calling the council's ASSIST service on 0345 602 7050.
Cllr. Myfanwy Alexander is the council's Cabinet Member with responsibility for Adult Social Care. She added: "'Rob is a great example of someone using the flexibility of Direct Payments to suit his lifestyle and his aspirations. It is a system which can benefit many people, so why not find out if it would work for you or for a loved one?'
You can find out more about PeoplePlus' service at https://peopleplus.co.uk/communities/direct-payment-support-services/