Georgia returns from Yale trip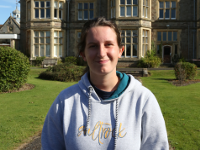 October 16, 2019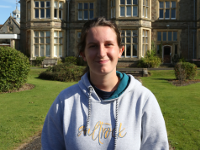 A Gwernyfed High School sixth former has returned to her studies in Wales after spending a fortnight at Yale University in the US.
Year 13 student Georgia Allen visited the college as part of the Welsh Government's Seren Network programme - a scheme to help pupils who are high academic achievers get into the UK's top universities. She was the only Powys student to make the trip.
Georgia explained: "Over the summer I spent two weeks at Yale University and I was lucky enough to attend science lectures with people from all over the world. I first heard about it at the Seren Conference at Newtown earlier this year and decided to apply as Seren was helping with scholarships for the visit.
"It was eye-opening. I learnt so much, not just about science but about different people's cultures. I met people from Senegal, from Honduras, from Brazil, from Tajikistan - which I didn't even know was a country!" laughed Georgia. "I knew there would be cultural differences but, more importantly, you just realise how much we have in common with people from other countries."
She attended a number of physics lectures at the university, learning about particle and theoretical physics and she also learnt about the professors at Yale's research into Black Holes. She also attended a lecture on Dark Matter from a professor who had worked at Cambridge University with Professor Stephen Hawking. Georgia also attended Earth Science lectures, including the study of cyclones, weather forecasting and food science.
"In one of those lectures, there was a fellow student from Puerto Rico and he was telling me about how his house had been completely destroyed by a cyclone."
She paid tribute to the Seren Project: "We need more things like this because it really pushes the students and you realise we're just as good as anyone else from around the world. It's really great that Seren allows us to perform on a global stage and I can't thank Seren enough for giving me this opportunity."
Cllr. Phyl Davies is the council's Cabinet Member with responsibility for Education. He commented: "Georgia is clearly such a good ambassador for the students of Powys and, I agree with her, there's no reason why our young people should not be competing with the best in the world."
"Here at Powys County Council we are pleased to be supporting the Welsh Government's Seren Network as it is one of the many strands which help all of our pupils achieve their potential," added Cllr. Davies.
"In fact, we want all of our students in Powys to achieve their potential, now and in the future. The only way to do is this is to develop an education infrastructure that will provide these opportunities to help them fulfil their ambitions. We will be working with fellow educationalists to developing a business case that considers post-16 learning in the context of 14-19 learning and the new curriculum. This will help us to make this happen," said Cllr. Davies.
To find out more about the Seren Network visit https://gov.wales/seren-network or, if you are in a Powys secondary school or at a NPTC campus in Powys speak to your head teacher of head of school.