Hero awards recognition for council and its partners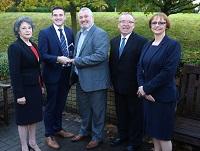 22 October 2019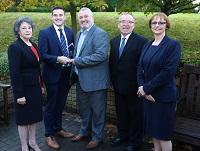 A Powys county councillor and a council service have received national recognition for their roles in keeping consumers safe.
Leon Livermore, Chief Executive of the Chartered Trading Standards Institute (CTSI) was in County Hall in Llandrindod Wells earlier this month (Thursday, October 10) and informed full council about Powys County Council's success at the CTSI Hero Awards 2019.
The awards recognise and celebrate unsung heroes who stand on the front line of consumer protection in their communities.
Mr Livermore told councillors that there was fierce competition for the Political Hero Award. The award was won by Cllr James Evans, Cabinet Member for Trading Standards, for the leadership he provides on consumer matters for the council.
"James has been instrumental in getting the hard work of trading standards recognised by the right people, always encouraging them to understand the important role that the service plays in consumer protection", said Mr Livermore.
"It was a pleasure to present this award to James and we wish that every service had an advocate like him," said Mr Livermore.
At the Hero Awards 2019 the council's Trading Standards Service, Dyfed Powys Police and company Littleton Murdoch Limited each received a 'Highly Commended award. The award was in the "Outstanding Project and Initiative" category for their effective role in tackling counterfeit and illicit tobacco.
Clive Jones, the council's Professional Lead for Trading Standards, Community Safety and Emergency Planning, said:
"I am please that our politicians, our trading standards staff and partners such as Dyfed Powys Police and Littleton Murdoch Limited get recognition for their continued work in dealing with matters such as counterfeit and illicit tobacco. The awards and recognition are appreciated by all."
Dyfed Powys Police's Detective Inspector Antony Panter said:
"This is an excellent example of how a coordinated approach between police and partner agencies, to carry out an effective investigation into a complex trading standards case, can protect our communities from harm."