Sexual exploitation play to tour Powys high schools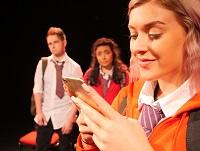 23 October 2019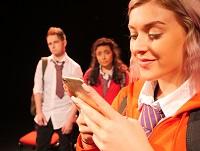 An award-winning play about sexual exploitation will be touring secondary schools across Powys next month (November), the county council has said.
Powys County Council has teamed up with the Office of the Police and Crime Commissioner to fund performances of the educational production Hudo/Tempted.
Written in Welsh and English, Hudo/Tempted is a forum theatre production that is aimed at pupils aged 13 and over. It discusses sexual exploitation of young people - reflecting young people's concerns and status.
Produced by Cwmni Theatr Arad Goch, in collaboration with Dyfed Powys Police and Crime Commissioner, it has already been seen by around 3,000 secondary school pupils across Wales.
The intention of the play is to raise awareness of how young people can be the target of someone seeking to take advantage of them in a sexual way.
The production is presented as five short scenes using forum theatre - a style of theatre that encourages the audience to intervene and to contribute objectively by making suggestions or comments to the characters.
Cllr Rachel Powell, Cabinet Member for Young People, said: "I'm very grateful to both the Dyfed Powys Police and Crime Commissioner and the council's Children's Services. Their investment has allowed secondary schools to accept this opportunity to benefit and safeguard our younger groups.
"Sexual exploitation is an area I'm extremely concerned about. It is by no means a new concept and prevalent in both urban and rural communities. It can display itself in many forms and this is the intention behind the production which raises its profile but allows young people to identify the threat of sexual exploitation for themselves, which will be a form of prevention in itself."
Cllr Phyl Davies, Cabinet Member for Education, said: "Our secondary head teachers have positively welcomed this production, which will take place in high schools this autumn.
"This collaboration with the Dyfed Powys Police and Crime Commissioner, education and the arts means we can reach our younger generations through the very powerful means of theatre."
The tour starts with a preview performance of the play for professional frontline staff such as teachers, health professionals, social workers, youth workers and councillors on Tuesday, November 5 at Ysgol Calon Cymru - Llandrindod Campus.
Photo by Elin Crowley