New Cabinet sets out vision for the county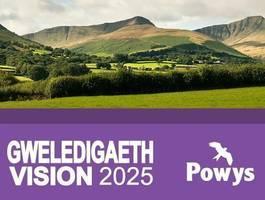 The Cabinet, which is an Independent/Conservative coalition under the leadership of Cllr Rosemarie Harris, has launched their 'Vision 2025'.
The document announces their mission of 'Change for Powys - delivering an open, pro-active and engaging council for 2025'.
Four priority areas have been outlined, which are:
Economy: developing a vibrant economy
Health and care: leading the way in effective, integrated rural health and care
Learning and skills: strengthening learning and skills
Residents and Communities: supporting our residents and communities
Cllr Rosemarie Harris, Leader of Powys County Council, says: "My Cabinet is a team of considerable experience in public office who bring fresh challenge and new thinking. Our first task as a Cabinet is to map out a stable course for the future, to work with our residents and communities to create this vision to take us to 2025.
"There is a great deal to be done but Vision 2025 sets out our initial thoughts, our views on what the priorities should be, but they are a starting point and a discussion document that is open to challenge and debate."
She added: "Powys is a wonderful county with a great deal to offer for residents, both young and not so young and those who visit us whether to work on a daily basis or as a tourists. Our challenge is to improve what the county has to offer and make it an even more attractive as a place to work, play and do business."
To view the Vision 2025 please visit www.powys.gov.uk/Vision2025.