Knighton Literary Festival starts this week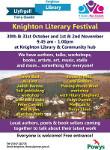 October 28th, 2019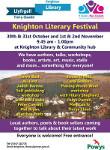 Knighton Community Centre and Library will be brimming with creativity this week, as it opens its doors for the second Knighton Literary Festival. There will be authors, talks, workshops, books for sale, art and artists, music, stalls and more - and the very popular Comm Café for a well earned cuppa and delicious cake in between all the excitement.
The Festival opens on Weds 30th October with the Sometime Band at 9.45am, followed by authors Tanvir Bush at 10am, Peter Conradi at 11am and Carol Graham at 12 noon.
Thursday 31st kicks off with Petra on saxophone at 9.45am, with Ali Ford at 10am, Mel Bryan at 11am and a workshop with Hilary Sheppard at mid-day.
Friday features the Llanfair Singers, Judith Barrow, the Marches Poets and Hugh Purcell, whilst on Saturday, there is music from George, Phoebe and Lottie, a self-publishing workship with Bob Fowke, and talks by James O'Neil, Meg Cox and Thirza Clout.
The Knighton Literary Festival is the brainchild of Community Hub and Library Officer, Hannah Isaacson, who has worked incredibly hard to arrange all of the events. Hannah has fantastic support from the Community Centre Management Committee and staff, all of the volunteers and the Knighton Library Friends. They are all looking forward to another very successful festival.
Cllr Rachel Powell, Portfolio Holder for Children and Culture, said: "It is wonderful to see so many people enjoying the best of our border arts and culture in this thriving community. We are very grateful to all of the writers, artists and musicians who have given their time and to the Comm Management Committee, staff and volunteers for their hard work to make the festival a success.
Cllr Powys said:
"It demonstrates what can be achieved when everyone works together for the benefit of the community. It also gives everyone the opportunity to take part in cultural activities in rural mid Wales,"
Dave Alker, Chairman of the Knighton & District Community Centre, agrees: "It's really hard work to keep a building as large as the Comm going, but it is also very rewarding to see it bursting at the seams with events such as the Literary Festival. We are really pleased to support it, and to give everyone in Knighton the chance to meet some great authors and artists right here in our own creative community."