Brecon Library is moving to y Gaer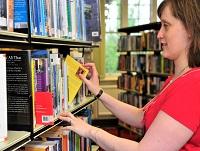 October 31st 2019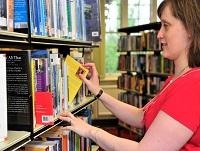 Brecon's Ship Street library will close later this month to allow the service to move to its new town centre home at y Gaer.
The library will close on from Monday, November 11 and open in its new home y Gaer on December 5. Services on offer at the library will be maintained in the town at other council buildings during the closure.
When it opens y Gaer will be one of the best facilities in the county, comparable in size to other main town libraries in Powys, offering all library services including the children's section as planned.
Chief Executive, Dr Caroline Turner said; "Although the library floor space is being reduced to accommodate future partners, careful design means that the re-configuration will provide excellent delivery of library services.
"The Children's Library is an important feature for y Gaer and all claims that it is being removed are totally wrong. There is no intention of removing this important facility or dedicated study space from the building regardless of future partnership work.
"Staffing and volunteer support remains as intended, the range and volume of stock will meet expectations as will the suite of services and activities."
Library users can stock up before 1pm on Saturday, 9th November - adults can borrow up to 20 items on a library card - children can borrow up to 10. Lending limits have been temporarily increased.
All books due back in the move period will be automatically renewed till 6th January 2020, so there is no need for users to worry about their books being overdue and being fined.
A temporary library information desk will be set up at Neuadd Brycheiniog where staff can help council enquiries including:
bus pass renewals and applications,
blue badges,
council payments
document verification.
The information desk will be open on Tuesdays, Thursdays and Fridays 9.30am-4pm.
Job seekers will be able to use computer and printing facilities at Brecon JobCentrePlus.
Further details will be available from the library before 11th November (01874 623346 Brecon.library@powys.gov.uk or ygaer@powys.gov.uk)
Other libraries across South Powys will be open as normal during the period. For details of opening hours and contact information, please see the Powys County Council website https://en.powys.gov.uk/article/1200/Find-nearest-library
Also available online 24 hours per day, https://wales.ent.sirsidynix.net.uk/client/en_GB/powys_en along with the library catalogue where readers can order some great new books to collect from y Gaer when the new library, museum and art gallery is open will be a fantastic range of:
e-books,
e-audio downloads
e-magazines