Not such a happy meal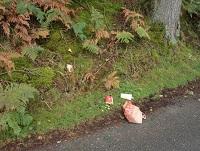 5 November 2019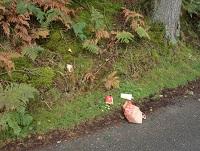 A fast-food snack turned out to be a costly meal for a Powys resident after he was fined £75 littering in a county beauty-spot.
The Llandrindod Wells resident received the fine for littering after dumping the food packaging in a layby near the Elan Valley reservoir and visitors centre.
Powys County Council Waste Awareness & Enforcement officers investigated the littering and were able to trace the purchase back to a restaurant in Aberystwyth. Using CCTV they identified the culprit.
Corporate Director for Environment, Nigel Brinn said; "Roadside litter is a blight on our countryside something that really impacts on the beauty of Powys. Dumping litter anywhere is disgraceful but when it is an area of outstanding beauty such as the Elan Valley is really unforgiveable.
"I am pleased that this anti-social action resulted in a financial sanction being applied and I hope it sends a strong message that we will clamp down on this type of lazy and unacceptable behaviour."
Littering is a criminal offence under Section 87 of the Environmental Protection Act 1990. It also harms our environment and on roadside locations is especially costly and difficult/dangerous to clear up.
Fixed Penalty Notices are an effective and efficient means to settle such matters out of court. The £75 fixed penalty notice has been paid without court action.
"We welcome visitors to our scenic county, but not those who drop litter. Please take your litter home and dispose of it responsibly," added Mr Brinn.