Opening hours revealed for y Gaer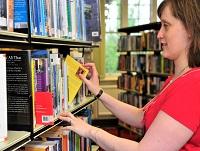 18 November 2019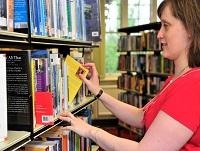 Opening hours for y Gaer - the new location for Brecon Library, Brecknock Museum and Art Gallery - have been announced for the centre's December opening.
The town centre attraction will open its door to the public for the first time on Thursday 5th December and Powys County Council has confirmed its opening hours will be:
Monday - closed
Tuesday - 9.30am - 6.30pm
Wednesday - closed
Thursday - 9.30am - 5.00pm
Friday - 9.30am - 5.00pm
Saturday - 10.00am - 4.00pm
Nina Davies, Head of Housing and Community Development, said: "We have tried very hard to give a good spread of hours across the week, to enable as many people as possible to visit and enjoy the varied resources of y Gaer. Working people, tourists, families and children are all very important, and we are very pleased to offer our first all day Saturday opening, to try to give as many people as possible the opportunity to visit the combined library, museum and art gallery."
Opening hours and usage patterns will be reviewed during 2020, to make sure that they meet community needs as far as possible within existing budgets. Partners may be able to help to extend the exciting offer, and Expressions of Interest in renting spaces at y Gaer will remain open until 31/01/2020.
A strong team of volunteers is already in place to support the new facility, and these opportunities will also be developed next year.
Work on the first exhibition at y Gaer is well advanced and details of the first watercolour exhibition will be announced shortly. All of the regular events which take place at the library will also be restarting once the move is completed.
Whilst Brecon library is closed, readers are reminded that books due back in the move period will be automatically renewed until 6th January 2020, so there is no need for users to worry about their books being overdue and being fined.
A temporary library information desk will be set up at Neuadd Brycheiniog on Tuesdays, Thursdays and Fridays 9.30am-4pm. Staff will be available to help with council enquiries including bus pass renewals and applications, blue badges, council payments and document verification.
Job seekers will be able to use computer and printing facilities at Brecon JobCentre Plus.
Other libraries across South Powys will be open as normal during the period. For details of opening hours and contact information, please see the Powys County Council website https://en.powys.gov.uk/article/1200/Find-nearest-library
A fantastic range of:
e-books,
e-audio downloads,
e-magazines and
e-comics are also available online 24 hours per day, https://wales.ent.sirsidynix.net.uk/client/en_GB/powys_en along with the library catalogue where readers can order some great new books to collect from y Gaer when the new library, museum and art gallery is open.