Recycling crews go above and beyond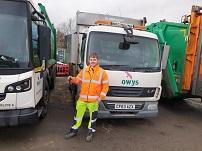 13 December 2019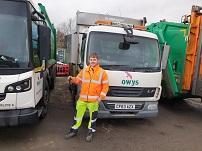 It's great to see residents recycling as much as possible, but one resident in Caersws area took things one step further recently!
With stringent recycling targets to achieve, we need all households to recycle all that they can, but it's equally important to make sure that the quality of the material is up to scratch to ensure it can be recycled here in the UK.
As part of their quality checks, one of our eagle-eyed recycling operatives, Arron Bennett, spotted a bunch of keys in a huge pile of plastics and cans when unloading back at the depot in Newtown. The keys had been accidentally dropped into a red recycling box by a customer and had travelled to Newtown in the recycling truck.
Residents were alerted to the lucky find via a message on the 'Powys Recycles' Facebook page, with the message shared 122 times, reaching over 13,000 people - helping to quickly spread the word around north Powys.
The keys have now been returned to the delighted owner who thanked staff for their diligence and said she had been looking for them everywhere. She praised the staff for going the extra mile in helping to reunite her with the keys.
Nigel Brinn, Corporate Director for Economy and Environment at Powys County Council, said:
"We collect plastic bottles, pots, tubs and trays along with steel and aluminium cans every week from your red box here in Powys and are extremely grateful to householders for diligently putting out their recycling each week.
"Thanks to the keen-eye of one of our recycling operatives, the set of keys were spotted and returned to their rightful owner in no time at all, and we would like to thank them and everyone else for their involvement."