Award recognition for Machynlleth comic artist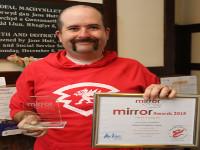 December 13, 2019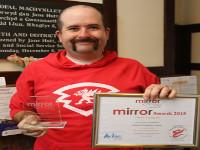 A Machynlleth man has won an award for his comic strips.
David Llewelyn Lewis picked up a 2019 Mirror Award (Idea Category) from The All-Wales People First organisation, an advocacy group for people with learning disabilities.
He attends the Cyfle Newydd day centre in his home town. "When they called my name out at the award ceremony I didn't know what to do with myself. I was just all over the place, I was so very happy," laughed David.
He has created a series of comic strips featuring a group of superheroes known as 'The Titans of Righteousness' (led by The Red Dyfi Dragon). These superheroes protect Wales from the supernatural as well as guarding its residents in other ways. David's comics touch on a variety of issues including abuse, homophobia and online safety.
"I've created the comics to teach people with learning disabilities, like myself, how to stay safe when they go out or if anything happens to them," said David. "They can learn from these messages and then they can talk to people that they can trust. Hopefully, it will encourage them to speak out more and to be treated like everybody else."
Alison Bulman is the council's Corporate Director (Children and Adults) and she commented: "We are so proud of David's work and he is a deserved award winner. David tackles a wide variety of community safety issues that people with learning disabilities may come across and he tackles them in such a sensitive way."
Sean Delonnette is Assistant Day Services Manager Cyfle Newydd. "David came to me one day and said that he'd been working on a comic strip and asked if he could show me. He handed me this fantastic piece of work. His first one was on the Green Cross Code and I knew straight away that it was something special."
"A lot of bigger comics wouldn't tackle some of these issues but he tackles difficult subjects really delicately," added Sean.
David's comics can be found online on Facebook at RDD Comics.