Lamb & Flag bridge replacement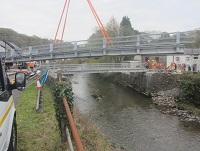 13th December 2019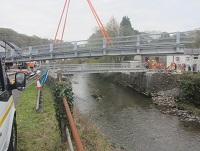 A new 20m span bailey bridge has been successfully installed in a south Powys community providing improved access for residents.
Work on the new bridge, which crosses the River Tawe at Lamb & Flag in Abercrave, was carried out by Powys County Council. It replaces a temporary bridge with capacity for 3.5 tonne vehicles installed in 1980 after flood damage to the original.
The bridge serves six properties on the south side of the River Tawe which have no alternative access on public roads.
The new bridge is a galvanised steel deck fabricated in two sections each weighing 22 tonnes. The bridge was supplied and installed by Retro Bridge Ltd. of Chepstow.
Installation of the bridge required closure of the A4067 Principal Road for 12 hours to allow a 300-tonne crane to be set up on the highway. Overhead electricity supply and telephone cables had to be dropped to allow the crane to operate.
Work started at dawn and by mid-morning the old Bailey Bridge had been lifted out and placed in an adjacent builders' yard thanks Chilcott Builders Ltd. The two sections of Retro Bridge were lifted into place and locked together allowing pedestrian access. The road was reopened three and a half hours ahead of programme.
The new bridge has improved access and visibility at the A4067 junction, improved vehicle containment and safety. The bridge has capacity for all vehicles and has been designed to have a 120-year life. Work on the scheme was designed and managed by Engineering Design Services.
During the work a temporary footbridge spanning part of the Bailey was used for pedestrian access and specially prepared deck plates were used for emergency access. The residents were full of praise for the cooperation of the workforce and the high standard of workmanship in the completion works.
The old bridge will be used by the Ministry of Defence for military training.