Guided Walk - Thursday 19th December 2019 @ 10am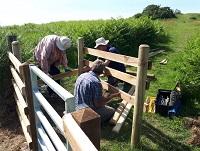 16th December 2019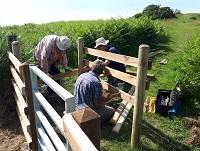 A special guided walk will be held in Llandrindod Wells this week to celebrate improvements to local footpaths around the town as part of the Natural Resources Wales; Healthy Active and Outdoors project "Miles Without Stiles".
Funding has allowed Powys County Council's Countryside Services to change a number of stiles to gates, improving public access between Llandrindod Wells and Shaky Bridge. This links in well with previous works which improved the Heart of Wales Line Trail, forming a circular walk, which is advertised on the Llandrindod Wells town website.
Join Countryside Services for this guided walk on Thursday 19th December 2019. Meeting at Llandrindod Lake near the entrance to the amphitheatre (SO 0629 6065 or LD1 5NU) at 9:50am for a 10am start.
The walk is 7.3 km or 4.5 miles, climbing 260m in height over the walk and crossing farmland and quiet lanes. There are no stiles, only gates and kissing gates, but there are a few steps and some slopes may make you puff a little. The ground is also likely to be rather wet underfoot in places, but you will be rewarded with some fabulous views of Cefnllys Castle, the over the River Ithon from a number of locations.
Please bring, appropriate clothing and shoes, and please no dogs on this guided walk.