Literary giants' items on display at Llandrindod Wells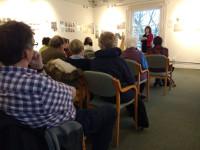 December 17, 2019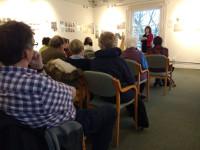 Items from Peter Pan creator J.M. Barrie, war poet Siegfried Sassoon and romantic poet Percy Bysshe Shelley were amongst the items displayed at a Christmas event organised jointly by Powys County Council's Archives team and Radnorshire Museum.
This month's event at the museum was organised to thank volunteers, depositors and friends for their support throughout 2019 and centred on a new exhibition of the council's archives in the museum gallery.
For one day only, original items featured in the exhibition were on display, including letters from Peter Pan creator JM Barrie, war poet Siegfried Sassoon and romantic poet Percy Bysshe Shelley.
Archivist, Julie Ryan gave a short talk to introduce the exhibition, which features a selection of the archives new accessions from 2019 alongside eighteen of their most significant or interesting collections. The talk was followed by a performance of Celtic tunes by local harp player, and good friend of the museum, Dr Joseph Botting.
Cllr Phyl Davies, Portfolio Holder for Archives said "It's great to see Powys Archives and Radnorshire Museum come together to host a Christmas event. Powys Archives has received some wonderful new items this year, and the exhibition at the museum highlights these along with some of the important collections which preserve the history and culture of Powys. The Archives service is based in Llandrindod Wells at Unit 29 Ddole Road Enterprise Park and everyone is welcome to visit and to use the records for research."
The exhibition of images will remain at Radnorshire Museum over the coming months and is free to enter for Powys residents.