Detached Youth Work Team wins award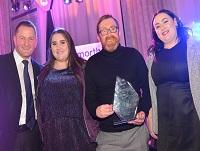 19 December 2019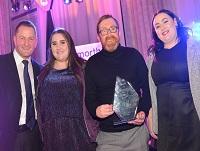 A council service that provides a unique and bespoke service to young people in need has won a prestigious award.
Powys County Council's Detached Youth Work Team has won the Showcase Award for Homelessness Prevention at the 2019 Promoting Independence Awards. The ceremony took place at Portland House in Cardiff Bay last month (Friday, November 29).
The awards, organised by Cymorth Cymru, are a celebration of the people and teams that provide support in Wales and the work that is being done to help some of the most vulnerable members of society to fulfil their potential and maximise their independence.
The team has supported a number of young people during 2018/19 who were at risk of or who were homeless. It has provided support for many young people with a variety of needs since it was created, including 135 people in 2018/19.
The team's effective, innovative and person-centred work, mixing informal and formal youth work approaches, means that engagement and success rates are impressive.
Cllr Rachel Powell, Cabinet Member for Youth Services, said: "I'm delighted that our Detached Youth Work Team has won this award.
"It's fantastic that the team's hard work and dedication in supporting young people in need has been recognised by winning this award.
"I would like to congratulate all the members of the team in their success and appreciate their efforts. It demonstrates how vitally important youth provision is in providing unique support for those young people who need it."