Registration now open for this year's garden waste recycling collection service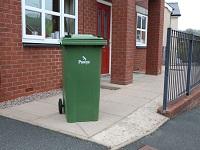 16 January 2020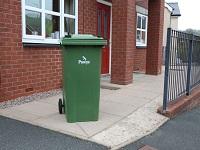 Residents across Powys can now subscribe to this year's easy, clean and simple garden waste recycling collection service, offered by the county council.
Following the successful introduction of the service last spring, residents are now able to subscribe to the service for this year by visiting www.powys.gov.uk/gardenwaste or by calling 01597 827465.
The annual subscription of £35, includes a 240-litre wheeled bin and fortnightly collections of your garden waste between 2 March and the 4 December which, following resident's feedback, includes more collections than last year. A smaller 120-litre bin is available at a reduced rate for households with small gardens, or compostable garden waste sacks for those who have their residual rubbish collected in purple bags.
Residents who already benefited from using the service last year will be contacted shortly to remind them to re-subscribe for another year. Once registered for 2020, they will receive a sticker to place on their green wheeled bin to indicate the crew that they have signed up for another year.
New subscribers to the service will have their green wheeled bin delivered by the council within 10 working days, so make sure you sign up early to benefit from all the scheduled collections starting from the beginning of March.
Cllr Heulwen Hulme, Cabinet Member for Recycling and Waste, said: "With the night's drawing out and signs of spring on the way, it's at this time of year that many of us start to venture out into our gardens.
"The collection service, which costs less than £2 per collection if people subscribe now, means that residents have an easy, clean and simple way of getting rid of their garden waste, with the knowledge that it will all be recycled and turned into compost.
"Signing up to the collection service will not only mean that residents don't have to get the inside of our cars dirty and covered in grass cuttings and twigs, but the charge is likely to be less than what most residents would spend on fuel to take their garden waste to a collection point."
Residents not subscribing to the service will still be able to compost their garden waste at home or take it to one of the five household waste and recycling centres in Powys.