Positive talks with Minister
17 January 2020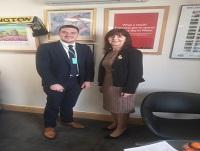 Animal health issues in Powys were the focus of a meeting with the Welsh Government this week.
Cllr James Evans, Powys County Council's Cabinet Member for Trading Standards and Animal Health, has met with the Minister for Environment, Energy and Rural Affairs, Lesley Griffiths AM in a very positive and constructive meeting.
Among the issues discussed were Bovine Tuberculosis, sheep scab, and dog breeding. As well as updating the Minister on important case work in the county.
Cllr Evans, said: "It's so important that the voice of rural Wales is heard at the heart of Welsh Government so local issues are raised and feedback given on key areas.
"Farmers in Mid Wales are in my view the best farmers in the world and we need to ensure that our high animal welfare standards are maintained. I raised directly with the Minister areas of animal health which are currently detrimental to the industry and Welsh Government needs to act to ensure our farmers are protected.
"Our Trading Standards Team are leading the way in many areas and we are keen to continue to develop relationships with Welsh Government to discuss areas such as animal health and welfare which are teams which need resourcing."