Brecon Housing build contract awarded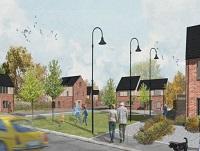 3rd February 2020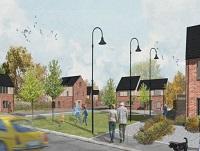 A contract to build Powys County Council's first affordable housing development for social rent in over 40 years has been awarded to a Welsh building company.
Neath-based JG Hale Construction Ltd have been appointed as lead contractor to build a 32-unit development in Brecon to provide a mix of 1,2,3 and 4 bedroomed properties.
The company, who are committed to using local sub-contractors, is a major player in the building and modular homes industry and have worked with a number of councils and housing associations in Wales.
The £5.1m development, which is being built on the council's land north of Heol Y Ffynnon, will provide low-carbon accommodation available at an affordable rent.
Cabinet member for Economic Development, Housing, and Regulatory Services, Councillor James Evans, said:
"I'm delighted that Hale Construction Ltd have been appointed as the lead contractor for this exciting and innovative social housing development project.
"This development, which will meet the needs of the local community, is just the first of many housing developments that we are planning across the county. It will also help meet our Vision 2025 - to build a minimum of 250 affordable homes across the county.
"We are looking forward to working with JG Hale Construction Ltd for the duration of this construction project."
Home grown Welsh timber will be used as part of its construction with timber being used for both the primary structure and external materials, including cladding, windows and doors, which supports the council's Wood Encouragement Policy.
The attractive scheme was commended by members of the BBNPA planning committee for its commitment to placemaking, sustainability and environmental features. It also includes enhancements to providing accessible recreation space and active travel.
JG Hale are committed to working on a local training programme linked to the development set up by Powys Housing and partnering with local schools, colleges and third sector organisations. School students will learn the impact of using local timber and will design and assemble selected items for the new homes.
Powys County Council tendered the enabling highway work to a selection of local contractors which was awarded to M H Davies Contractors Ltd of Sennybridge. These works are near completion which will allow JG Hale to commence on site on 10th February 2020.
The scheme will benefit from a contribution from the Welsh Governments Affordable Housing Grant.
Andrew Collins, Contracts Manager for Hale said: "The project will consist of building 32 properties and associated works. Once complete, it will provide high-quality housing that demonstrates an improvement on the current building regulations standards. These properties will be a fantastic addition to Powys housing stock. We look forward to working with our local supply chain partners to provide employment and training opportunities throughout the project."
David Harrhy, Managing Director of Hale Construction, said: "JG Hale Construction is delighted to have been chosen by Powys County Council to deliver such an innovative scheme for the local people of Brecon and the surrounding area. We look forward to creating a superb new development of high-quality homes for those who need them most."