Leader and Cabinet Minister open new high school building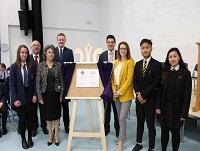 10 February 2020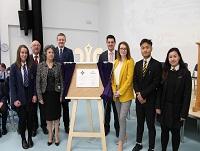 A new high school in south Powys has been officially opened by the Leader of Powys County Council and Wales' Minister for Education.
Cllr Rosemarie Harris and Kirsty Williams AM officially opened the new £21m Brecon High School building on Wednesday, February 5.
Pupils sang for guests and also performed part of the school's next production - School of Rock - at the opening ceremony.
The new 750-place secondary school, which opened its doors to pupils and staff for the first time last December, will meet the demands of education for the 21st Century.
The project was jointly funded by the council and the Welsh Government as part of the 21st Century School Programme
Built by BAM Construction, the new building is located between the town's leisure centre and athletics track.
Covering 7,500sqm, the state-of-the-art school includes specialist teaching areas, four court sports hall, activity studio, dining areas and a full cooking kitchen.
Cllr Phyl Davies, Cabinet Member for Education and Property, said: "The official opening of Brecon High School marks a new era of education opportunities for our learners in the area.
"Providing high quality teaching and learning environments is part of our Vision 2025 and this fantastic facility will provide pupils and staff with a significant improved learning environment.
"Our partnership with the Welsh Government, the school community and contractors has delivered a wonderful school which will allow learners and teachers to thrive in."
Richard Jenkins, Brecon High School's Interim Headteacher, said: "This is a fantastic facility and it has already made a huge difference for our learners and staff in such a short space of time.
"We are extremely proud of our new school and hope our new surroundings will help all learners for many years to come."
Education Minister Kirsty Williams said: "I was delighted to officially open Brecon High School and to see the transformation after first visiting the site when construction started in 2018.
"I believe that all children and young people should have the opportunity to learn in the best environments we can provide.
"I was delighted to see what has been delivered in Brecon with the support of more than £10 million from the Welsh Government's 21st Century Schools and Colleges Programme.
"The delivery of any school project is only possible through partnership working and I would like to congratulate all those involved for their hard work and determination in taking this project forward.
"I would also like to wish all staff and pupils the very best of luck in this wonderful new school."