Emerging education vision discussed at Schools Conference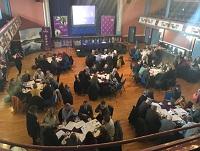 11 February 2020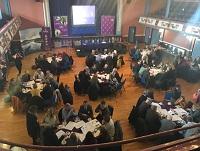 "We can do it if we work together to improve education in the county for all learners" - that was the message from delegates at an education conference organised by Powys County Council.
Headteachers, governors, trade unions and other education partners attended the Spring Powys Schools Conference on Thursday, February 6 at the Pavilion in Llandrindod Wells, organised by the council's Schools Service.
At the conference, delegates heard what the council has done since the last school conference including the work on the Estyn Post Inspection Action Plan.
Delegates were given the draft 'Emerging vision for education in Powys' and its guiding principles and were given the chance to influence them to ensure that they are fit-for-purpose for 21st Century education in the county.
Several Powys headteachers who have gone through the school transformation process spoke at the conference about their journeys and the challenges that they faced.
The conference also heard from guest speaker Jano Owen, Strategic Headteacher of Ysgol Bro Idris in Gwynedd, about her experiences and challenges in establishing the 3-16 all-through school.
The delegates then broke into groups to discuss what education in Powys could look like in the future.
Cllr Phyl Davies, Cabinet Member for Education and Property, said:
"Our Spring Powys Schools Conference gave us the opportunity to provide our headteachers and governors with updates on the work we have done to date as we work to improve education in Powys.
"A key part of this work has been the emerging vision for education in Powys. We're currently seeking views from a wide range of stakeholders on our vision, so it was important that education leaders at the conference were able to discuss and influence it to ensure it is fit-for-purpose.
"Everyone that attended the conference wants the best for our learners. By working together, we can improve education across the county and give all our learners the best education they deserve."
There's still time to give your views on the emerging vision for education in Powys. Visit www.powys.gov.uk/transformingeducation to take part in the survey. Hard copies of the survey are available from libraries across the county.