A PA is proving to be a magic wand for Powys social care client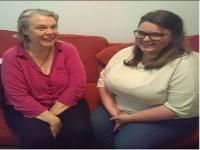 February 13, 2020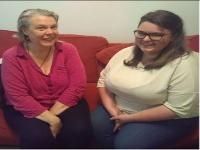 "My Personal Assistant (PA) is my magic wand." That's the message from Powys woman Shelly Seymour who suffered three strokes two years ago, leaving her with significant frontal lobe damage.
Shelly, who lives in the south of the county, uses Direct Payments to manage her social care requirements. In her case, she employs a PA to help support her with daily life.
Shelly commented: "With my PA, I have been able to tidy the kitchen, have a picnic in the sun and visit friends. I am feeling like me. I had lost me in the stroke and now I am finding me again.
"My husband is more relaxed and not worrying about me and I can plan days out with my children. I actually went to the supermarket to buy gym clothes and I could choose them and pay for them," she added.
Shelly and Jess, her PA, have regularly gone to the gym and Shelly is now noticing a difference in her muscle tone and stamina. Jess was able to support Shelly to see friends and this gave Shelly the chance to attend a music festival in Swansea with her friends.
Shelley said she was really grateful for the chance to have a PA and commented: "You are all a team who will be using Direct Payments for other people. Just tell them PAs can be life changing in a really good way."
Councillor Myfanwy Alexander is the Council's cabinet member with responsibility for Adult Social Care. She commented: "Our aim as a Council is to help people to live their lives in a manner which suits them, whatever difficulties they may face.
"Direct Payments foster independence, allowing families to choose how they use their funds in ways which allow them to decide their own priorities.'"
More than 480 Social Care clients use Direct Payments to manage their social care needs in Powys. The payments give people greater control over their lives and how their care is delivered by promoting independence, choice and inclusion.
The council-contracted agency PeoplePlus is able to give support and assist with understanding what Direct Payments can be used for. Such as recruitment including advertising vacancies, employing personal assistants, ongoing advice and guidance around all aspects of managing direct payment accounts.
You can find out more about Direct Payments via https://en.powys.gov.uk/article/1573/Direct-Payments or by calling the council's ASSIST service on 0345 602 7050.
Photo: Shelly (left) is pictured at home with her PA Jess.