Hundreds enter poster competition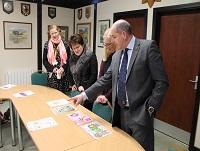 17 February 2020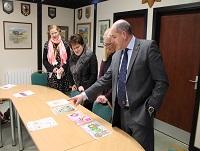 A poster competition where Year Nine pupils and below in Powys and Ceredigion could win tickets to Wales' premier agricultural show attracted over 350 entries.
The competition was organised by Positive Pathways Powys, the group which also organises the Powys Careers Festival.
Aimed at pupils aged 14 and under, the competition is to design a poster to promote the Royal Welsh Agricultural Show.
The competition's design brief is that the poster will be designed to attract people to attend the Royal Welsh Show 2020 from the Royal Welsh Show's non-traditional audience. For example, how the Royal Welsh Show can attract people from urban communities to educate them around where their food comes from and the value of farmers.
A judging panel consisting of representatives from Powys County Council and the Royal Welsh Agricultural Society including its Chief Executive Steve Hughson shortlisted five posters. The shortlisted pupils were:
Katie Hesketh, Year Five - Caersws C.P. School
Lily Rogers, Year Five - Forden Church in Wales School
Ffion Jones, Year Seven - Ysgol Bro Hyddgen, Machynlleth
Delilah Leach, Year Seven - Welshpool High School
Evan Pringle, Year Seven - Welshpool High School
The five have been invited to next month's Powys Careers Festival, which will be held on Wednesday, March 4 at the Royal Welsh Showground.
The winner will be presented with a family ticket to this year's Royal Welsh Show and the Royal Welsh Agricultural Society will give a letter of invitation to the Smallholders and Countryside Festival for the reserve champion.
Jackie Parker, Chair of the Positive Pathways Powys Group, said: "I'm delighted that we had so many entries and would like to thank all those who took part in the competition. Everyone should be proud of their efforts and I hope they enjoyed taking part in the competition."
Chief Executive of the Royal Welsh Agricultural Society Steve Hughson said: ""The standard of entries was excellent and I thank everyone for entering.
"The topic fits with the Society's drive to promote the value of agriculture and the quality of Welsh produce to wider communities. These posters will certainly help to deliver this important message.