Storm Dennis batters Powys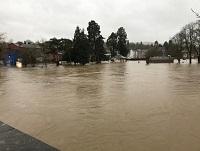 February 18th 2020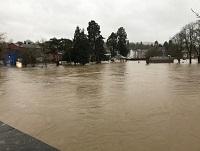 Powys staff have been praised for 'unbelievable' actions as Storm Dennis battered the county bringing flooding and damage for the second weekend in a row.
Storm Dennis hit the county on Saturday and Sunday leaving a trail of damage in its wake across the county, with towns like Crickhowell being seriously affected. The impact was also felt in Brecon, Welshpool, Builth Wells and many others with flooding and landslides causing huge disruption.
Cabinet Member for Highways and Waste Management, Councillor Heulwen Hulme praised staff for the hard work battling to protect properties, businesses and road users after high winds and torrential rain lashed the county.
"Once again our staff were unbelievable responding to Storm Dennis which battered the county leaving a trail of damage and flooding. Crews were in action right across Powys worked alongside emergency services helping residents and doing all they could to minimise damage.
"Once again the response from our staff was outstanding. For the second weekend in a row they worked tireless to limit the impact of the weather, it was a fantastic effort and we are very grateful to them."