Employment opportunity via Shared Lives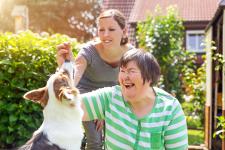 February 20, 2020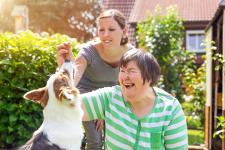 Some people need extra support to achieve the things in life that matter to them. A scheme to provide supportive and empowering homes for people in Powys is looking for more 'hosts' in the county.
The Shared Lives scheme helps arrange for people to have short breaks or live long term, in the homes of carefully selected and trained people called Shared Lives Carers. People using the service choose who they live with, where they live and how they spend their time. The scheme gets to know people, before they stay with Shared Lives Carers, so they know what matters to them and the outcomes they want to achieve.
No previous experience is required to become a Shared Lives Carer. The scheme is administered by Powys County Council and provides support for Shared Lives Carers, ensures that they access the training they need for their role and pays them for their valuable work.
Councillor Myfanwy Alexander is the council's Cabinet Member with responsibility for Adult Social Care. She commented: "'We're looking for more local people to consider taking part in this great scheme. Shared Lives is a way for people to support vulnerable members of our communities to experience full and meaningful lives.
"We know from experience that this can be very worthwhile for all parties: why not give us a ring and see if Shared Lives is for you?'"
Richard Gwynn is the Service Manager for the scheme. He said: "We find that living or staying with a Shared Lives Carer can be really transformative for a person. It can help them to gain greater independence, increase their confidence and presence in the community, and supports them achieve more of the things that matter."
Information about Shared Lives can be found on the council's website at https://en.powys.gov.uk/article/1901/Supporting-adults-Shared-Lives
"You don't need to be a certain age or gender, Shared Lives carers can be from all walks of life. However, If anyone would like to chat through what's involved then please feel free to ring me via 0345 602 7050. They are welcome to do this without any obligation."
Ends
Photo: Shared Lives opens up greater independence for vulnerable people in Powys.