Storm Dennis response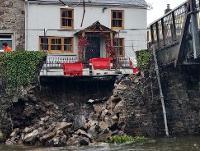 February 19th 2020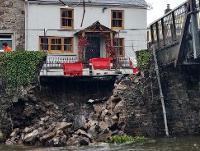 Powys County Council is committed to working with partners to support residents and businesses affected by Storm Dennis at the weekend.
Roads, bridges, homes and business were badly affected when Storm Dennis lashed the county through Saturday and Sunday triggering flooding, landslides and structural damage throughout the county.
"The devastation caused by the storm captured on national news has been heart-breaking and our thoughts are with the residents, businesses and visitors caught up in the storm. As we move into a recovery phase the county council is committed to working with partners to do what it can to help," said Powys County Council Leader, Councillor Rosemarie Harris.
"We have been working with all partners including Dyfed Powys Police, Mid and West Wales Fire and Rescue Service, Natural Resources Wales and Housing Associations since weekend and are now focussed on the recovery operation.
"We have highway staff with JCBs, gully cleaners and other equipment across the county helping with the clean-up work, our resources are limited and stretched but we are doing what we can.
"The council is already in discussions with the Welsh Government to investigate what financial support can be offered to residents and businesses who have lost everything in the floods. Council tax and business rates relief will be available to help those worst affected.
"We are in touch with the worst affected communities provide help and advice about the clean-up operations. We are investigating practical solution such as providing community collections for flood damaged goods for disposal.
"The council has set up a dedicated webpage where people can find help and advice on a range of issues from road closures and flood alerts to housing and advice on safeguarding against bogus trades people who often take advantage of situations like this. The information can be found at: www.powys.gov.uk.