Seren Network helps sixth formers secure Oxford offers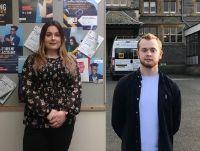 25 February 2020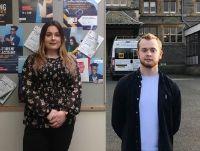 Two Powys sixth formers have secured offers to study at Oxford University, thanks to the help and guidance of the Seren Network.
Bailey Jones from Gwernyfed High School and Chloe Ralph from Newtown High School will head to Oxford in September to start university life.
Both pupils have credited the Seren Network for its help and guidance in securing offers.
"I have been offered a place to read medicine at St John's College at Oxford," Bailey said.
"I'm studying biology, chemistry and maths and require A* and two As come August. Through the Seren Network I have been to many different talks, ranging from university applications to specific days aimed at potential medical students. These days not only aided me to get my place but also helped direct me to the career pathway that I am currently on."
Speaking about her offer, Chloe said: "I study Maths, Psychology, Law and the Welsh Baccalaureate at Newtown High School. I have been offered a place on the Experimental Psychology course at Oxford University at St Catz and want to pursue a career as an experimental psychologist.
"The Seren Network helped me during the interview process as I was given support and guidance on how to answer the interview questions effectively. Last year, I attended the Seren Conference and went to the Oxbridge advice seminar where I was given helpful tips on how to make my application stand out.
"I'm looking forward to being part of Oxford University and I'm very grateful for this opportunity."
Cllr Phyl Davies, Powys County Council's Cabinet Member for Education, said: "The Seren Network supports more able and talented pupils in the county and has helped many young people to enter Britain's top universities.
"I'd like to congratulate Bailey and Chloe for securing their offers and hope they achieve the grades they need to enter Oxford University later this year."