Resident fined for failing in their Householder duty of care for waste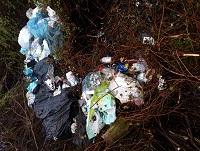 25 February 2020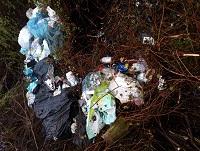 Failing in their householder duty of care for their waste has cost a Machynlleth resident £150 after they were fined by Powys County Council.
The council's Environmental Protection team issued a fixed penalty notice after evidence identifying the offender was retrieved from a fly-tip of domestic waste. The waste had been dumped on business premises on the Treowain Ind Estate just off Forge Road, Machynlleth.
Cabinet Member for Highways, Transport and Recycling, Councillor Heulwen Hulme said: "I'd like to remind residents that they have a duty of care for all waste which they produce to ensure that it is disposed of correctly or passed onto someone who is legally able to dispose of it.
"We want to make Powys a welcoming place for our residents and visitors and this starts by having a clean environment.
"The vast majority of our residents and business are currently recycling and dispose of their residual waste in the appropriate manner. However, there are a small number out there who blight our communities with their selfish actions by fly-tipping their waste.
"We need to reinforce the message that fly-tipping is a criminal offence that harms the environment and costs taxpayers' money when it has to be cleared up. It is also unfair that landowners in Powys should have to pay to clear other people's waste.
"We will not hesitate to clamp down on those who dispose of their waste illegally. This case should be a reminder to others that we will investigate cases of fly tipping and take appropriate enforcement action."
If you witness fly-tipping in the county, you can report it at www.powys.gov.uk. Click on Report followed by Report fly-tipping.