Praise for homecare workers during flooding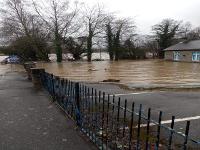 February 27, 2020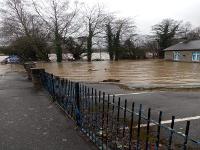 Powys County Council has expressed its thanks to homecare workers who went 'above and beyond' in looking after Powys clients during the recent flooding.
Flooding in the Crickhowell and Builth Wells areas caused particular difficulties for homecare workers, with imaginative solutions being used to reduce the impact of people who receive homecare visits.
Staff from the Spectrum agency were aware that some of their clients in Crickhowell were without family support and so booked their staff into the Dragon Hotel in the town - which offered the staff half-price accommodation - to ensure that they were able to keep their appointments.
And in the Builth Wells area, Affinity Homecare staff re-allocated their visits. As staff couldn't cross the River Wye workers on the Brecon side cared for people in one half of Builth while those on the Llandrindod Wells side cared for the other half.
Cllr. Myfanwy Alexander commented: "'Carers are local heroes and in the midst of crisis conditions, they showed their determination not to let down their clients. I would like to add my thanks to all members of the teams involved for their pluck, their flexibility and their tireless efforts to ensure that our most vulnerable citizens did not suffer in this extreme weather.'"
Dylan Owen is Head of Commissioning with the council and he added: "We of course are aware of some of the more high profile situations, already featured in the local media, but we also know about some of the 'untold' stories of staff working above and beyond, working out of hours or coming up with imaginative solutions to ensure that our residents have been kept safe and received the support they require.
"We've just mentioned a few of the examples here but we very much appreciate all of the agencies' work - and indeed, our in-house home care workers - and look forward to continuing working with them to support Powys residents," he added.
In addition, the council is holding a recruitment drop-in in Llandrindod Wells next month to give people an insight into working the homecare sector. Staff will be in the Conservatory at the Pavilion Conference Centre on Friday March 6th, between 2pm and 5pm.
Staff from the council will be joined by representatives of Social Care Wales, care provider Hafal Crossroads as well as representatives of PeoplePlus, who will be able to talk about the support they can offer people who receive Direct Payments.