Education Minister launches E-sgol initiative in Powys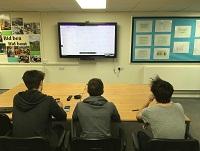 6 March 2020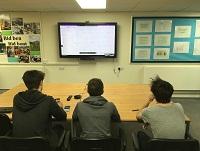 A new initiative to develop e-learning in Powys secondary schools has been launched by Wales' Education Minister.
The E-sgol project aims to expand opportunities for Post-16 pupils to study courses that would not otherwise be available to them.
Powys County Council signed up to the Welsh Government sponsored project, which has seen video link facilities installed in every secondary school campus in the county.
Education Minister Kirsty Williams AM was in Llanfyllin High School on Thursday, March 5 to officially launch the E-sgol project in Powys. Kirsty saw first-hand how Post-16 pupils are successfully using the technology, for example in the delivery of Further Maths lessons.
Lessons happen via a live video link from the teacher while the pupils can remain in their school. These 'live' lessons are with an experienced and qualified teacher, who is located in another school.
Teachers can provide pupils with live feedback through the system, and pupils can contribute orally to the lesson exactly as if the teacher was in the room.
Last month, pupils used their school's E-sgol equipment to give their views to the council's education officers on the proposed vision for education in Powys.
Cllr Phyl Davies, Cabinet Member for Education, said: "Providing high quality educational opportunities for all our learners is part of our Vision 2025 and the way we will achieve this is by using technology.
"We need to embrace the challenges of being a large rural county and use technology to improve access for all our learners.
"The E-sgol project will connect pupils and teachers across Powys and ensure that pupils are offered a wider range of topic choices while giving them the best learning experience."
Dr Lewis Pryce, a Mathematics teacher at Llanfyllin High School, said: "Any apprehension I had about e-sgol quickly evaporated when the teaching started. The process of teaching multiple schools has been seamless and the pupils have enjoyed the lessons and been a pleasure to teach. By now, I see no difference between my video lessons and my traditional lessons.
"It is also great to be able to teach Further Mathematics at A Level, something which, without this project, would be unlikely to happen."
Kirsty Williams said: "I feel passionately that all school pupils in Wales should have the same study opportunities, be that at a city centre school or one in the countryside.
"E-sgol uses technology in an innovative way that makes a real difference to students in rural areas by increasing the subjects available to them and broadening their career options after school.
"Taking action to support rural schools has been one of my top priorities over this Government's term. Along with investment through our 21st Century School programme, E-sgol is another example of how we are ensuring equity for pupils, regardless of where they live."