Careers Festival a big hit with Powys students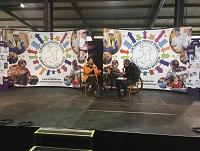 10 March 2020
Over 2,500 students gathered at the Royal Welsh Showground last week for one of the UK's biggest careers festival.
The fourth Powys Careers Festival took place on Wednesday, March 4 in Llanelwedd and the partnership which organised the event has thanked all those who attended and making it a success.
Positive Pathways Powys, the partnership dedicated to providing careers advice to Powys' young people, pulled some 100 employers, universities, colleges, employer training providers. As well as a range of other organisations to offer young Powys students from high schools, special schools and colleges an in insight into the opportunities which await them.
Jackie Parker, Chair of Positive Pathways Powys, said: "We're delighted that so many young people attended this year's careers festival.
"There was just so much for the young people to see - from universities to volunteering opportunities - and there was also a lot of information on offer on apprenticeships, including a main stage discussion devoted to the subject.
"I'd like to say a big thank you to our main stage guests including former Gwernyfed High School student and Capital FM radio presenter Ben Sheppard and former Llanidloes High School student and ultra-cyclist and writer Emily Chappell. Their contributions helped make it a special day for our young people.
"Finally, I would like to thank our sponsors, exhibitors, schools and students who all attended to make the fourth Powys Careers Festival a big success."
This year's festival was sponsored by:
the NPTC Group of Colleges
Cambrian Training
Lanyon Bowdler Solicitors
Wipak
Hughes Architects
Open University
Abercare
Careers Wales
WestEnt audio visual
Powys County Council